Adam
His Excellency






Joined: Jun 15 2003
Posts: 5537
Location: New York
Post subject: Advertising on ComputersOC.com
Posted: Wed Oct 17, 2007 4:08 am

---
You can have a link of your choice displayed on the thousands of PHP generated computersoc.com pages for a low monthly fee. Let thousands of visitors and users see your link on the top of all of our pages! Improve your Google ranking drastically by having it show up on all of our pages automatically!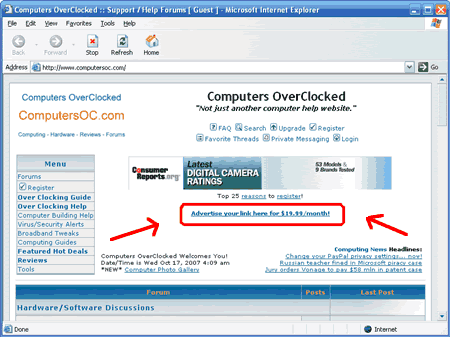 Pricing:
Monthly - $24.99/month (no monthly contract)
6 months pre-paid - $22.99/month
12 months pre-paid - $19.99/month

Links must abide by site rules.

If you would like your link somewhere else on each of the computersoc.com pages, a deal can be worked out.

Only three links available, so please email Adam at webmaster@computersoc.com or send a private message to Adam, ASAP!

Any questions, feel free to ask! Thanks!

_________________
Fast computers wanted to cure diseases:

Distributed Computing


Do you like the site? Did I help you out?
Please consider upgrading to an Advantage Account. It helps the site's expensive costs. Thanks!

Last edited by Adam on Wed Oct 17, 2007 5:39 am; edited 2 times in total